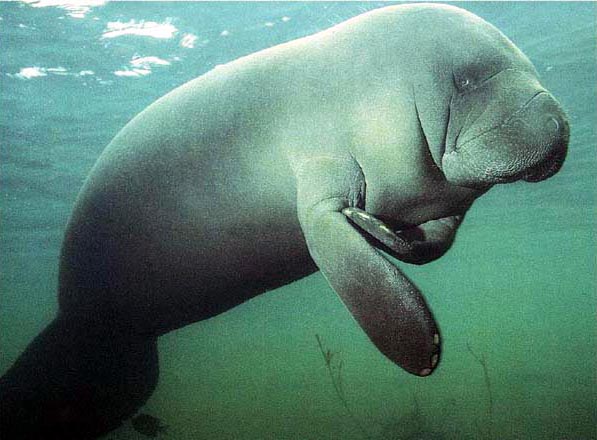 My mom tried to bond with me when I was 16 by taking me to
swim the dolphins
in Key Largo. Not a euphemism. The dolphins that were supposed to happily zip around their enclosure with me on their back smiling a big white American Girl On Spring Break smile, ignored me. I bobbed in the water, awesome smooth totemic marine mammal-less.
We saw a lot of manatees, though.
Manatee comes from manati, the Taino word for breast. Manatees are also the origin of the myth of the mermaid. (See: sailors, drunk.)
What should the collective noun for manatees be? I vote for "a sea lettuce." A big head of romaine is what zookeepers in Pittsburgh would feed the Aquazoo's resident manatee when I went there as a kid. I went there a lot. Chuckles, the Amazonian river dolphin, eyed me through the murk of his tank with what I convinced myself was trust. Save me, he seemed to be saying. Do it.
An aggregation of manatees was rescued last month from a Florida storm drain near Cape Canaveral. They had gathered in our wastewater outfall, trying to warm up. It's been a hard winter for everyone. Leonard Nimoy died. Lisa Adams died.
But yesterday the sun was out, and it was so shocking, so yellow, so beautiful and warm that I stood in it, letting it pour over me like soup from a ladle, and I understood exactly those manatees in the storm drain.